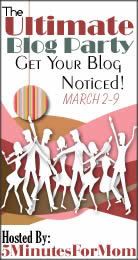 If you are wondering what this is all about, click on the picture above!
Welcome to my blog everyone! Come on in and look around! I'm a full time mom and part time social worker. I've been married for 11 years and have 3 sons ages 3, 3, and 1 .
I blog mainly to share things that I find interesting and also to keep family and friends updated. In fact, my parents don't even call us anymore, they just read the blog! (Hi Mom and Dad!)
I'm very much seeking a simpler more focused life with my main focus being on God and then my family.
I'll finish by telling you 10 things about me:
1. I love Coca Cola!
2. I like to read Christian fiction (especially Amish stories).
3. I dye my hair off and on and started going grey in high school.
4. We attend a non-denominational church.
5. I love to collect recipes and look at cookbooks. I have cut out way too many dessert recipes!
6. I plan to
home school
my kids in a couple of years.
7. I recently lost 24.4 lbs. in a weight loss contest at work.
8. I played the cymbals and flute in high school.
9. I donate blood when I get a chance (I've been bad about going since having the boys).
10. I love to eat out at new and different restaurants.
Enjoy the party and leave me a comment before you leave!
Lura